Westergasfabriek and Westerpark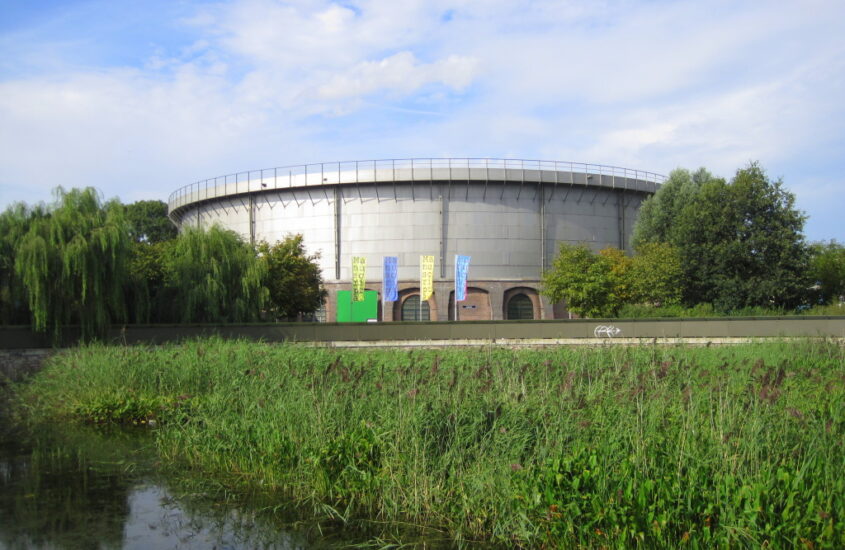 Friday, 31 May, was a perfect day to explore sustainability at Westergasfabriek Cultural Park. Our hosts Corinne and Chris spoke about the park's "dirty past"  as a natural gas production site. Starting in 1885, Westergasfabriek produced  natural gas from coal in what  was the largest industrial facility of its type in the Netherlands.
In the 1980s the City of Amsterdam considered redeveloping the area, but high remediation costs was a challenge to the city's budget. They solved this problem by turning the site over to a private owner who could invest in the redeveloping the area. Thus Westergasfabriek B.V. was created.
We visited many beautifully restored historical buildings that had been used for processing or transporting natural gas. The highlight for many was visiting the Gasholder, which now hosts performances and events. There is even a converted hotel room for those looking to spend a night or two in a natural gas storage facility.
Corinne spoke about the park's ambitious goals to produce energy again, except this time in a more sustainable manner. Westergasfabriek BV is applying for funding to support innovate energy projects, including its own wind turbine. Corinne explained Westergasfabriek is also working on reducing energy consumption through energy efficiency measures in buildings and by compacting waste in a way that emissions from transport can be lowered by 60%.
We finished the tour with a drink on the patio at Pacific Parc, soaking in the sun and continuing the sustainability discussion.
There are plenty of things to do and see around Westerpark! Visit the Cityplot Educational Garden, check out the Neighbourfood Market that takes place one weekend per month and visit the Buurtboerderij!