I Can Change the World with My Two Hands
I can change the world with my two hands is a community garden project in Amsterdam West started by Natascha Hagenbeek, a local artist and trendwatcher.
Their current garden project is called Moestuin Landlust, a beautiful community garden surrounded by personal plots of those in the Bos en Lommer neighborhood. Produce from the community garden is sold in their shop around the corner, Access to Tools, which also sells a wide range of gardening-related items.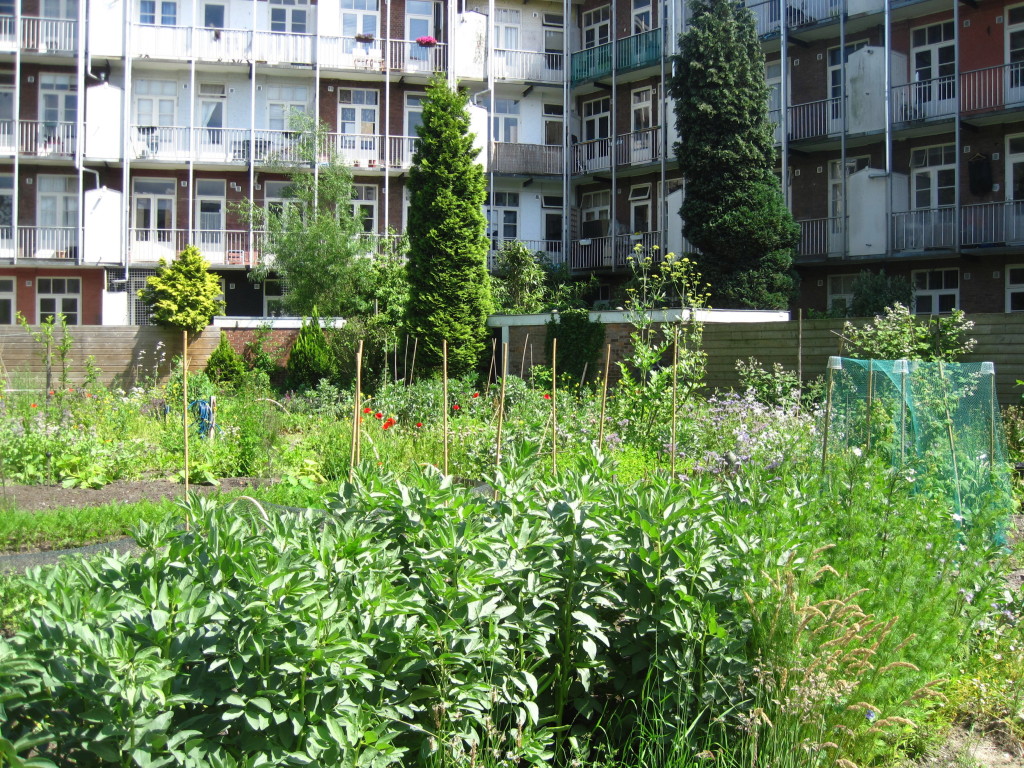 We first heard of this fantastic initiative at Natascha's presentation at Ignite Amsterdam organized byMediamatic. Her photos and stories were very interesting and inspiring, and we hoped to visit the garden soon. We finally had a chance this weekend on a wonderful bicycle tour of the edible gardens of Amsterdam West with Cityplot.
The Landlust garden did not disappoint. It was a beautiful warm sunny day but with quite a lot of wind. However, the apartment buildings surrounding the garden block the wind and provide an even warmer microclimate where plants thrive.
Previously a children's playground, the site was filled with sand and paved with concrete. You can see some remnants of the playground in the whimsical sculptures around the garden. Because the site was mainly sand, all the soil was brought in with wheelbarrows through the main entry doors. The central community garden was previously designed following permaculture teachings with a central tree surrounded by star shaped planting beds. But this proved to be more difficult for harvesting and linear raised beds were adopted.
A geodesic dome structure is the greenhouse for the garden, and provides an interesting focal point and home for thriving tomatoes. The structure can be ordered online and arrives packed flat to be assembled on site.
As we toured the site we saw several people come in with their children to visit the garden, and pick a few flowers and veggies. It seems like a lovely way for neighbors to connect and enjoy a patch of urban nature.
If you have a chance, be sure to visit the garden and the Access to Tools shop. Check our calendar and their agenda for the latest information on workshops, tours and volunteer days.
Moestuin Landlust
Jasper Leijnsenstraat 21, Amsterdam-West
Access to Tools: Winkel and Workshops
De Rijpstraat 155, Amsterdam-West