Amsterdam's Environmental Zones
Environmental Zones, or "Milieuzones" in Dutch, were first implemented in Amsterdam more than a decade ago in 2007. At first they covered a relatively small portion of the city and regulated only very polluting trucks.
The zones grew progressively and incorporated more and more types of vehicles. Amsterdam is one of the thirteen cities in the Netherlands that has introduced environmental zones for heavy duty trucks in their city centers. The environmental zone monitors the standards for air quality and prevents polluting vehicles from entering the city.
This post provides an overview to what the environmental zones means for various types of vehicles.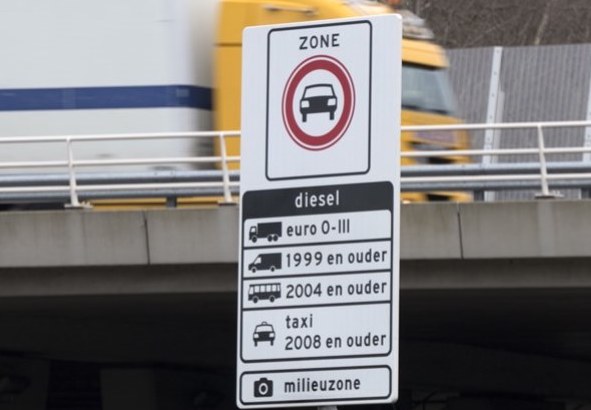 Trucks
This environmental zone applies to lorries that run on diesel, are heavier than 3,500 kg, and have a Euro 3 standard or lower. Since 2018, polluting trucks with the Euro 0, 1, 2 or 3 standard are not allowed to enter the city's ringroad, A10. Only clean trucks may enter environmental zones.
There are two options if a truck driver wants to enter the environmental zone with a truck that does not meet the requirements.
Apply for a daily exemption. Costs: €22.75; validity: 30 hours. Drivers can apply for a maximum of 12 exemptions per license plate per year.
Apply for a long-term exemption. Costs: €137; validity: maximum one year. Strict conditions apply for long-term exemptions.
Fines of €90+ can be imposed if truck drivers enter the environmental zone lorries without the proper exemption.
Delivery vans
Within the A10 ring road, an environmental zone for delivery vans has been applicable since 1 January 2017. Exceptions are made for disabled persons' vehicles. Since 1 January 2017, the environmental zone also applies for delivery vans with a diesel engine (vehicle category N1) with a Date First Admission (DET) from before 01-01-2000 applies. Vans with a gray license plate are also covered by these requirements. The date of first admission (DET) is the date on which a vehicle received a license plate for the first time. To compensate for the interdiction, the municipality offers a subsidy for the acquisition of a 100% electric vehicle.
There are no day exemptions for delivery vans. A fine of 90€ applies in case of trespassing.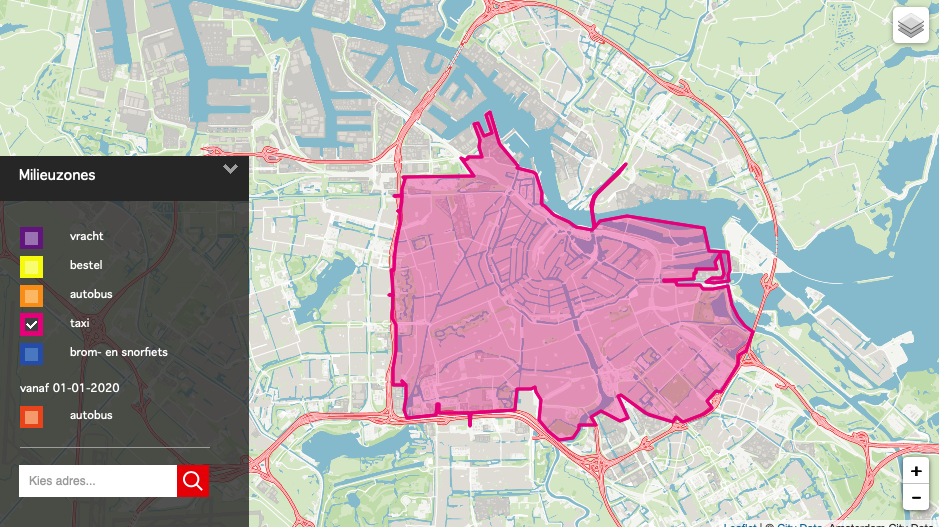 Environmental zones must exclude as many polluting vehicles as possible. There were already environmental zones for freight and delivery vans. As of 1 January 2018, the environmental zones for taxis, buses, coaches and scooters and mopeds have been added.
Scooters and Mopeds
Beginning in 2018, environmental zones apply for scooters and mopeds older than 2010. The environmental zone that applies for them is larger than the ones placed on delivery vans and trucks. As you can see on this map compared to the one above.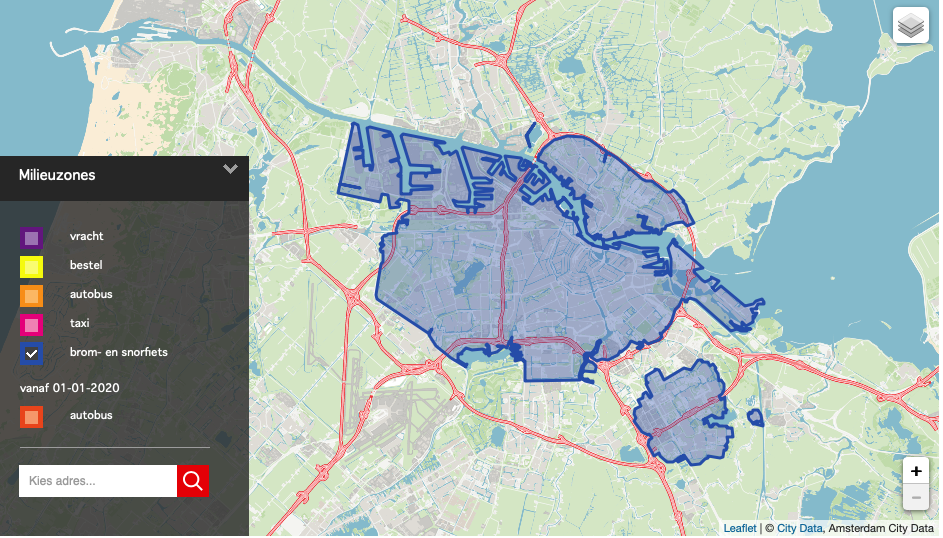 Taxis
From January 1st2018, the environmental zone applies for all taxis (M1 vehicle code and taxi registration at RDW) with a diesel engine and a date of first admission of 2008 or older. The environmental zone applies to all taxis, including those from outside Amsterdam.
However, taxis built after 1-1-2009 are allowed to enter the environmental zone. Taxis that run on fuel other than diesel can also enter the environmental zone regardless of their age. There is an acquisition subsidy for 100% electric vehicles.
Buses
From 1 January 2018, the environmental zone for diesel buses and coaches (buses, vehicle categories M2 and M3) older than (DET) 1-1-2005. The environmental zone also applies to diesel buses and coaches with a foreign license plate and buses for public transport. Beginning 1 January 2020, the environmental zone for buses and coaches will be expanded to the rest of the city area. The environmental zone is monitored with cameras at exits of the A10 and in the city. Based on the license plate, these cameras record whether a vehicle can enter the environmental zone. A fine of 90€ applies in case of trespassing.
For more information and to check whether a vehicle can enter Amsterdam: https://www.amsterdam.nl/parkeren-verkeer/milieuzone