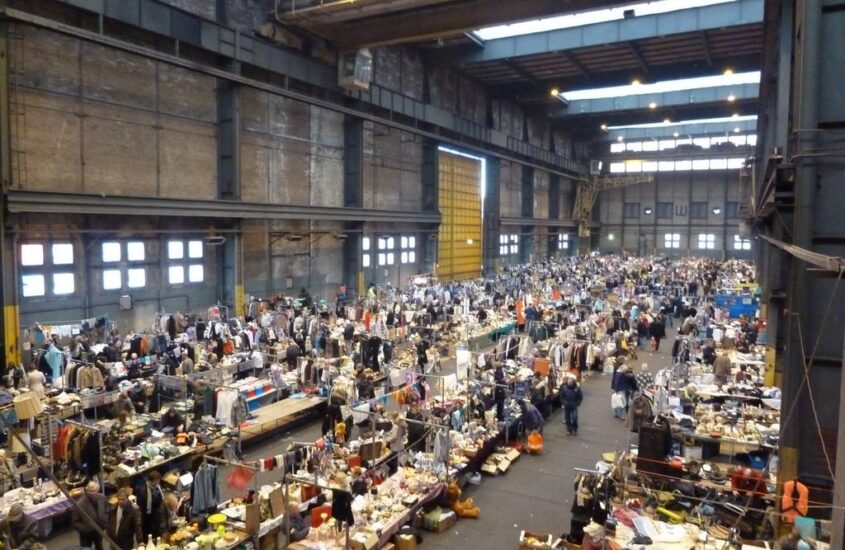 Consumption is the archenemy of sustainability which is why we all need to rethink the things we buy and throw away.  But those of us not ready to give up consumption all together,  can consume more sustainability by reusing and recycling goods.  This is why we like flea markets.  In particular we like the IJ-hallen, Europe's largest flea market, taking place every three weeks in Amsterdam Noord.   Here you'll find almost anything you can think of — clothing, furniture and household items, toys, tools, antiques, and more  used items looking for a new home.  Great prices makes the Ij-Hallen also economically sustainable.
Because yard sales are not permitted in the Netherlands, (except for King's Day when the whole city becomes one big yard sale!) the Ij-Hallen is where people come to after a spring cleaning or when they move house.  It's a great place to find recycled treasures and experience the Dutch spirt of mercantilism (yes, you should bargain!).
The market's location is perhaps the best example of how Amsterdammers repurposes everything.   The NDSM Wharf (or the Nederlandse Droogdok en Scheepsbouw Maatschappij / the Dutch Dock and Shipbuilding Company) was home to Amsterdam's largest shipyard dating back to the 19th century, up until 1984.  In the 90s it was a breeding place for squatters who eventually convinced the municipality to transform the space into a creative hub.
Entry is 5 EUR per adult, 2 EUR for kids. To get there from Amsterdam Central Station, take the free NDSM ferry from behind central station.  Visit ijhallen.nl for exact dates and information, and vlooienmarktenkalender.nl for a calendar of other flea markets in the Netherlands.