Sustainable Chocolate: Chocolatemakers Amsterdam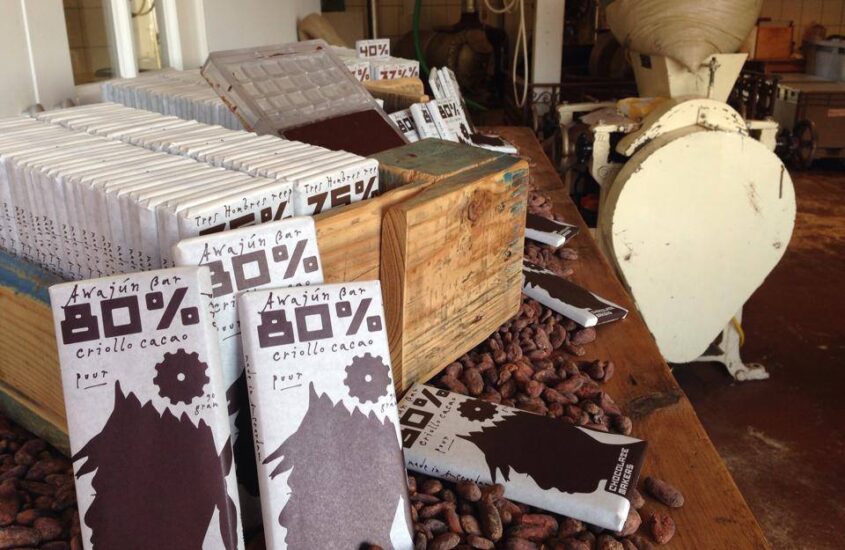 CHOCOLATE MAKERS AMSTERDAM
Typically chocolate is not thought of as a local and sustainable product, especially in Europe. After all, cocoa beans do not grow here.
But Rodney and Enver, the Chocolate Makers, are creating delicious chocolate as locally and sustainably as possible.
The two gentlemen buy organic cocoa beans directly from farmers in the Congo, the Dominican Republic and Peru at a fair price and then process the chocolate themselves from start to finish, adding organic sugar and milk powder. They believe that organic is the only way to go as it is better for the ecosystem, the farmers and the consumers.
They aim to reduce waste as much as possible by using Greenchoice power, recycling wastes, and reusing materials for packaging. Their machines and equipment are mostly second-hand.
The Chocolate Makers try to reduce waste throughout the process. Spent cocoa shells are used as mulch by local blueberry farmers at Smultuin Farm in Waterland. The shipping pallets are processed into packaging boxes for the chocolates by local artist Paul Salet. Packaging for the chocolate is waxed paper locally printed with bio-ink, and is 100% recyclable.
An especially cool touch is that the Chocolate Makers transport the beans to the Netherlands via a sailing ship, the Tres Hombres. Last summer we helped unload the sailing ship as it docked in Amsterdam Noord. Volunteers unloaded the bags using solely people power… with the help of a few electric vehicles and even a horse and buggy! The reward: delicious Chocolatemakers chocolate of course and for those who transported the most, a bottle or two of Tres Hombres rum! That's motivation for you!
Visit their website to purchase the chocolate, or look for it around town at places like Marqt, Coffee Bru, Beer Temple (chocolate and beer pairing, yum!), Sterk Avondwinkel and more!