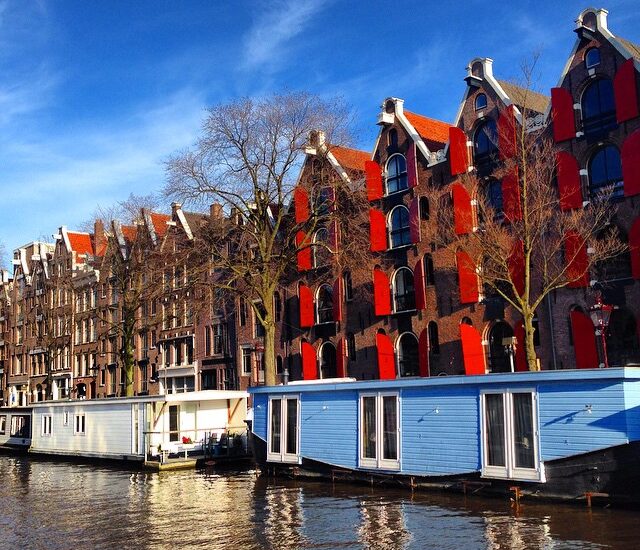 Houseboats add another dimension to Amsterdam's beautiful canals. Living on water became popular after the Second World War, when the city suffered from a housing shortage. Amsterdammers saw an opportunity in retrofitting a surplus of old cargo ships into affordable living spaces, avoiding rent and taxes. So houseboats are in fact an innovative recycling solution to creating affordable housing!
Many of these houseboats have been retrofitted into comfortable, modern, living spaces. But not so long ago the wastewater from the houseboats was dumped directly into the canals (in fact, all wastewater was dumped into the canals a century ago). But in 2007, the city set out to improve the water quality, and that meant connecting its houseboats to sewer service. Recently, the city reached an important milestone by connecting two thirds of its 3000 houseboats to the sewage network. The remaining houseboats will be connected by 2018.
The water quality has improved tremendously in recent years and by 2018, surface water is expected to be 95% cleaner compared to the start of the program.  This is very different from situation in the 19th century, when the city was described as "a beautiful mistress with really bad breath" – referring to the stench of the canals. Though these canals were first built to manage water and facilitate trade, Amsterdam's focus in the 21st century is on enhancing the city's water quality for improved livability.
You will find some of the most beautiful houseboats on Brouwersgracht and Prinsengracht, where there is even a Houseboat Museum.  And there are many fascinating converted cargo ships and historic sailing boats in the docks near NEMO. For a unique experience, you can spend a night in Amsterdam's Botel or in one of the many houseboats you can rent through AirBnB.