Sustainable Amsterdam is born from a passion for the livable city of Amsterdam and an interest in sharing its successful approaches to creating vibrant, smart communities.  Connect with us directly or follow us on Facebook and Twitter.
Cornelia Dinca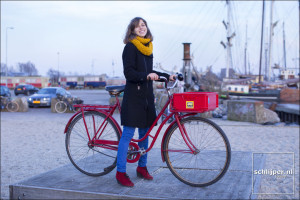 Cornelia is the founder of Sustainable Amsterdam.  She is a Romanian and Canadian engineer and planner. After starting her career in Alberta's oil and gas industry, Cornelia moved to Freiburg, Germany to learn about renewable energy and then to Amsterdam where she worked with a climate change consultancy. Cornelia also worked on climate change, waste management, and cycling projects in Vancouver before completing her Masters in Urban and Regional Planning at the University of Amsterdam.  Her research which was  featured by FastCompany focused on  land-use transport transitions in Amsterdam over the past century and their impact on livability. Email  cornelia@sustainableamsterdam.com to schedule a sustainability study program or for any other questions about our work.  You can also connect with Cornelia through LinkedIn.
Support team
Shoshannah Hausmann
Shoshannah believes sustainability is exciting, and as a freelance journalist she likes to spotlight businesses and initiatives that make Amsterdam sustainable.  She studied Biology at the University of California then received an MBA from the University of Southern California.  Her work experience includes ecosystem restoration, peregrine falcon rehabilitation, and bald eagle habitat monitoring as well as roles in corporate marketing and communication.   Shoshannah also runs Awesome Amsterdam, and is a connoisseur of fun urban living that is also environmentally and socially sustainable.  If you have a sustainability story you think we should feature, or would like to collaborate with us, email shoshannah@sustainableamsterdam.com.